Simply – fully the GDPR compliant CRM
Simply is the fully GDPR compliant CRM. As a European based company, with a strong focus on the security of our customers data, we have developed Simply from the ground up to be compliant with GDPR, even before GDPR existed.
Our secure data centers are located in Europe: Frankfurt, Germany and Amsterdam, Netherlands.

We provide useful, actionable resources to educate and empower your sales team.
We offer a free, quick and reliable data deletion service

We work with only the most reputable and accountable global privacy shield partners
The General Data Protection Regulation (GDPR) is clearly most important legislative change in European data protection laws since 1995, when the EU Data Protection Directive (Directive 95/46/EC) was introduced. The GDPR became enforceable on May 25, 2018, strengthens the security and protection of personal data in the EU and serves as a single piece of legislation for all of the EU. It replaced the EU Data Protection Directive and all the local laws relating to it.Simply supports the GDPR fully – and all Simply services comply with its provisions. Not only is the GDPR an important step in protecting the fundamental right of privacy for European citizens, it has raised the bar for data protection, security and compliance in the industry.
Certified secure hosting: ISO/IEC 27001:2013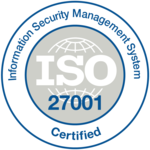 Our data centers are located at Digital Ocean, and are certified in the international standard ISO/IEC 27001:2013. By achieving compliance with this globally recognized information security controls framework, audited by a third-party, the they have demonstrated a commitment to protecting sensitive customer and company information. That commitment doesn't end with a compliance framework, but is necessary baseline for security. The ISO/IEC 27001:2013 certificate can be viewed here.
Simply CRM means simply secure
Want full GDPR assurance for your business? Choose Simply to keep your customer data safe
Try it for free
Immediate access. No credit card required